How High the movie is a stoner's hood classic. Are you a stoner AND a fan of black comedy? Well, this 2001 movie is our top recommendation to you in this respect!  How High is feebly produced in about every aspect possible — direction, cinematography, acting, scriptwriting — and coasts along on its "happy" comedy, oblivious to the fact that this movie is a masterpiece!
How High The Movie Synopsis:
So, the movie starts as, Silas and Jamal are two stoners who can't seem to take anything seriously, either school or life. When their high-achieving friend Ivory passes away unexpectedly, they collect his remains and use them as manure to produce more narcotics. They smoke what they produced with their buddy's ashes before taking the national tests to determine if they can get into college, and while taking the test, they find that, by some mysterious magic, they can hear their dead friend give them the right answers to all of the questions. They are instructed to enroll in Harvard scholarships, and once accepted, Dean Cain informs them of the terms: maintain a 2.0 GPA or be dismissed and lose your grant. Silas and Jamal begin to become familiar with the campus, where they are completely out of place. After being humiliated by the snobbish Bart, Silas enrolls in a Botany class with the intention of learning how to cultivate various forms of marijuana, while Jamal joins the rowing squad with the goal of knocking Bart off his lofty position. Silas, who despises Bart, begins meeting Lauren, Bart's girlfriend, on a daily basis. All of this enrages both Bart and Dean Cain, who would love nothing more than to see Silas and Jamal deported, but they continue to achieve straight A's in every class owing to their miraculous pills.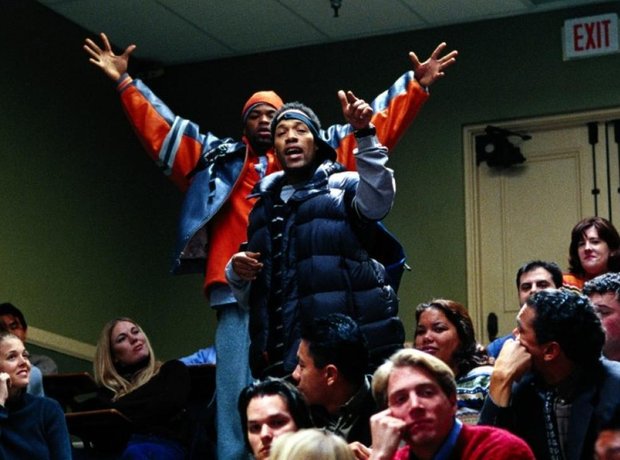 When they discover that all of their drugs have been used, they must immediately find some way to remain in school, or they will be sent back to their previous lazy lives. They are now on their own and must rely on one another to live. because of this situation, they began to fail in every test, and with that, they are not invited to the Harvard Alumni celebration. Dean Cain, apparently pleased with the outcome, informs Bart that he does not need to be concerned about the duo coming up or staying at Harvard. but somehow they manage to join the party and Silas adds some spice by putting his truth serum experiment to the test, which proves to be a success.
Lauren surprises everyone with her finding during her presentation of Benjamin Franklin's treasures at the alumni party: the items turn out to be a bong. Ivory even turns up with Benjamin Franklin to verify the legitimacy of the bong. The Dean is incensed by this discovery, but the Chancellor has had enough of Dean Cain and dismisses him. Jamal and Silas are able to remain in the end, Jamal and Jamie receive Jamie's father's permission to date, and Lauren abandons Bart, and that's how we have a happy ending!
Some interesting facts about How High:
Silas and Jamal mistakenly dig up President John Quincy Adams' grave at an unnamed cemetery, although the president is really buried in a private crypt beneath the United First Parish Church.
None of the sounds matches Jamal and Silas' voices as they hastily reach for their marijuana and blunt when they initially pull in to take their THC tests and have their cannabis "mishaps."
Sound designer Andrew Somers (uncredited) utilized a Theremin and a set of Obsidian Chimes to create the sound for the mythical pot plant (Ivory). They recorded breathing via a genuine bong for the sound of the huge bong!
The film is titled after the starring combo Method Man and Redman's classic hip hop song How High, which was released in 1995.
While watching the movie it may seem like many plants were harmed but in reality, no damage to nature was done.
The movie shows the scene in Harvard but actually, all these scenes were shot at the University of California, Los Angeles,
Why Watch How High?
Real laughter dose:
How High is just what American comedy needed: a lighthearted comedy that doesn't take itself too seriously. The narrative is wonderful, and Method Man's acting is fantastic. like Redman and Mike Epps, steals every moment they're in. this movie is a must-watch if you want some real laugh!
This movie serves the audience right:
How High knows exactly what its audience wants and gives it to them without any moral or ethical baggage. There's a great combination of humorous ability from different generations, as well as fantastic music from the stars.
Doesn't Leave you Hanging:
The plot solves all the knots and gives the viewers a happy ending. You won't feel depressed for the next few days. The laughter fits will make your experience worthwhile.